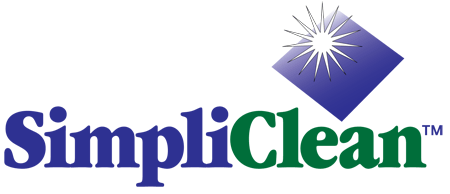 Safe Solutions For Heavy Duty Cleaning with patented Bayclean™ technology
A concentrated, neutral cleaner specially formulated for refurbishing vending equipment and is also very effective for all shop maintenance & floor cleaning needs.
Safe
No hazardous acids, caustics or solvents
No VOCs - fully biodegradable
Non-toxic - minimal risk to employees
Safe on metal, plastic and painted surfaces
Will not damage decals and labels
Powerful
Highly effective at ambient & elevated temperatures
Excellent motor and coil cleaner
Effective on petroleum and food greases
Use manually or in pressure washers and floor scrubbers
Apply - Let Stand - Brush if needed - Rinse Soils Away
See It In Action!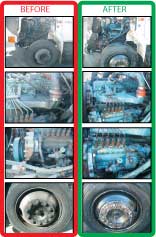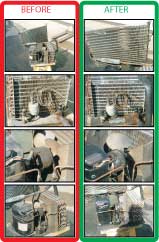 click graphics for larger view
General Instructions
SimpliClean™ is recommended for cleaning vending equipment including cabinets, snack trays and refrigeration systems. It is highly effective cleaning tough soils, especially oils and greases. In manual cleaning applications, SimpliClean™ rinses completely without slick or sticky residues and is safe for workers. Excellent for pressure washing concrete floors. Outstanding in all carpet cleaning equipment.
Use Dilutions
SimpliClean™ is concentrated. Always dilute with water before using. For light manual cleaning applications, dilute 1:10 - 1:30. For medium manual cleaning applications, dilute1:5 - 1:10. For heavy duty manual cleaning applications, dilute 1:3 - 1:5. For snack trays, use full strength to remove the waxy build-up. For all mechanical cleaning applications, follow the recommendations of the machine manufacturer or consult a SimpliCool representative.
Specifications
pH: Neutral
Appearance: Clear liquid
Odor: Mild, pleasant scent
Operating temp. range: Ambient - 140°F
Usage dilution range: 1:3 - 1:30

Handling
DOT Non-hazardous & Non-restricted. Refer to SimpliClean™ Material Safety Data Sheet for additional information.