GRS-2100 CUBE
Highly efficient, affordable, environmentally friendly, electronically controlled, interchangeable …
SimpliCool Technologies, engineers and designs custom refrigeration equipment for the global market place. Our initial product introduced at the 2001 National Automatic Merchandising Association's National Expo in Chicago, Illinois was the world's first computer controlled modular refrigeration system.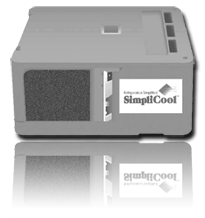 The GRS-2100 "CUBE" smart modular unit's compact design permits easy installation into new machines for OEM's as well as retrofitting into a wide variety of chilled display coolers and vending machines.
Since its introduction, the "CUBE" has been installed into a variety of chilled applications based upon SimpliCool's airflow, insulation and seal knowledge expertise. This well constructed, durable refrigeration module incorporates the latest computer technology with patented electronic controls that regulate system operation.
Features
The latest, high efficiency compressor specifically designed for vending application, an excess capacity condenser, and a cooling system that considerably reduces the compressor operating temperature. This highly reliable compressor system will increase life expectancy of the total system.
The only refrigeration unit that allows for extended operation and protection from damage during blackouts, brownouts, and electrical surges.
SimpliCool standardized their refrigeration system into one self-contained component that operates quietly and efficiently. This multi-purpose refrigeration system significantly reduces energy consumption and utility costs as well.
The cold-air CUBE virtually eliminates costly field service calls. If needed, one can simply exchange and replace a unit in a matter of minutes.
The GRS 2100 Cube is designed to be substantially recyclable, from its hard exterior structural foam plastic case to its recyclable internal metals and components to the R-134A refrigerant.
One year warranty
A totally managed internal evaporation and auto-defrost system with a filtered intake air design that houses an easily accessible, inexpensive, readily available filter that requires minimal maintenance.
These dynamic features greatly reduce high labor costs, expensive repair bills, the potential for hazardous refrigerant leaks and lost revenue from machine downtime for the operator and their customers.
To meet our customer's needs, SimpliCool has several new products in the design, staging and production phases focusing on innovative, intelligent, energy efficient and affordable units in addition to our manufacturing capabilities for these cooling systems.
Contact our technical team today and let SimpliCool's engineers design the ultimate cold-air solution you have been looking for.